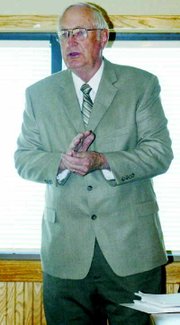 Out of session since last Sunday, Senator Jim Honeyford and Representatives Dan Newhouse and Bruce Chandler were guests of the Sunnyside Republican Club this morning and spoke about the highlights of this year's session.
One win for the agriculture community was the passage of the "Right to Farm Act", Sen. Honeyford said.
"The Farm Bureau helped my office draft this bill," Honeyford said.
The bill was designed after two lawsuits that affected farmers. One case dealt with a cherry farmer who bought an apple orchard. He then put in cherry trees and when the farmer started using a cherry cannon to scare away birds, he was sued by his neighbors for noise pollution.
The other lawsuit dealt with a beekeeper who bought some land to keep his bees on and was sued by a neighbor.
The new bill will allow farmers to be able to change their crops.
"It allows you to farm and be profitable," he said. "Otherwise there would just be museum farms."
The bill will be signed by Gov. Gregoire today at 4 p.m. and will protect farmers from these types of lawsuits.
Honeyford said he was disappointed in legislation offering domestic couples the same rights as married couples. He said domestic couples already had an avenue to secure their rights and thought the new legislation was a step toward recognizing gay marriage.
The state budget was also a failure in Honeyford's eyes. He said the state is spending $1.78 million more a day over what the state receives in revenues. It is projected by 2009 the state will have a $2 billion deficit and by 2011, it is projected the state budget will be short $3 billion.
He said he fears there will have to be cuts made in programs or taxes raised if this isn't brought under control.
Legislation passed that will cover healthcare for children in a family four that doesn't make at least $62,000 a year. He said that is 300 percent above the poverty level. Only two counties in Washington have a median income of that amount.
"Six out of 10 children will be taken off private insurance and put on government insurance," Honeyford said.
Also disappointing to the Senator was the Climate Change bill that passed. This bill covered greenhouse gases and was a joint effort by Washington and some other states, including California.
Honeyford said Washington gets two-thirds of its energy from hydro power, which is considered a renewable source of energy. California, he said, gets most of its energy from burning coal and gas, which contribute to greenhouse gases.
"My fear is we'll begin selling hydro power down south," he added.
Representative Dan Newhouse told the Sunnyside Republican Club he was glad to be home. He said House Republicans found themselves outnumbered 62-36, almost a 2-1 ratio after last year's Blue Wave swept a lot of Democrats into office.
He listed one success as a bill that passed, tightening laws dealing with auto theft.
"We got tougher with the younger criminal element," he said.
On the flipside, he said, a bill dealing with eluding police officers was not able to get passed.
Newhouse also said a bill passed tightening laws dealing with the theft of scrap metal. He added he hoped this would alleviate some of the problems.
Bills dealing with gangs weren't passed, instead there is a study being done on how to deal with them. He was disappointed in this.
He said he likes what the cities of Sunnyside and Grandview are doing, by enacting laws to deal with gangs.
Newhouse said there were a lot of good things passed in the budget but he too noted how much the state was spending. He said the housing market is cooling off and that is where the state gets a lot of its money.
"It's not good fiscal management to spend every dime," he said.
He added he wasn't sure the taxpayers' best interests were being served by spending more money than what was coming in.
He was happy a rainy day fund was set up. This fund requires the state to put in 1 percent of its revenues into a fund that can only be accessed during emergencies or by a two-thirds vote.
He said there were a record number of bills submitted this year, approximately 5,000.
Representative Chandler told the Republican club there was a lot done this session.
Two bills he helped to defeat were one allowing taxpayer money to be spent on political campaigns and one that would allow voters to register on election day and vote.
He was unhappy with a bill that allowed Native Americans on the reservation to receive state benefits and retirement funds. He said the tribes only recognize the Governor and won't deal with the house or senate. He thought the federal government should be responsible for paying Native Americans benefits since the tribes are sovereign nations.
On a lighter note, Chandler said the Walla Walla onion was named the state vegetable, the ship Lady Washington was named the state ship and the Pacific tree frog was named the state amphibian.
Chandler was optimistic about Yakima County's unemployment, which is almost down to the state unemployment rate at 5 percent.
"I believe our side of the state will experience more growth than the west side for the first time in a long time, maybe the first time," he added.
All three lawmakers thanked the attendees for letting them represent the 15th District.
"We do represent the best district in the state," Chandler said.