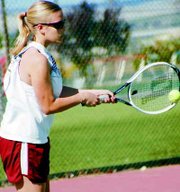 GRANDVIEW - The Grandview High School tennis team's non-league match against Zillah yesterday was a complete victory.
Both the girls and boys teams were victorious 5-0 against the Leopards.
Allison Grow and Danika Martinez's No. 1 doubles match-up against Abby Bos and Rosetti Celis of Zillah went Grandview's way 6-3, 6-4.
Christine Penwell and Sydney Mottice of Grandview played the No. 2 doubles match against Zillah's Heather Masini and Sierra Long. Penwell and Mottice defeated the Zillah pair 6-0, 6-0.
No. 3 doubles players Liz Aloccer and Noelle Miller of Grandview also came away with a 6-0, 6-0 victory against Bobbi Wyatt and April Rohrbach of Zillah.
In singles play, Sarah Burnell of Zillah was defeated via a tiebreaker by Grandview's Kyla Leyendekker 6-4, 6-7 (7), 7-3 in the No. 1 match-up.
The No. 2 singles match was forfeited to Grandview's Sarah Muegglar.
In boys action, No. 1 singles player Rogi Fajardo of Grandview defeated Cody Dunbar of Zillah 2-6, 6-2, 6-3.
Grandview's Edgar Candido won against Zillah's Tyler Lundberg 6-1, 6-1 in the No. 2 singles match-up.
Grandview's doubles team of Raymond Cantu and Gabe Contreras also won their match against Jesse McDonald and Christian Wiley of Zillah 6-0, 6-1.
The No. 2 and No. 3 doubles matches for the boys were forfeited by Zillah.