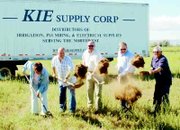 A Tri-City wholesale and retail industrial supply store broke ground this morning in Sunnyside.
Kennewick Industrial and Electrical Supply (KIE) has been in business for more than 50 years and purchased two acres near Alexander Road for $68,000 from the Port of Sunnyside last year in preparation to expand to the Sunnyside area.
This morning they broke ground on the site, with plans to be up and running by this September.
The Port of Sunnyside laid the groundwork for today's groundbreaking by garnering more than $200,000 for improvements that will include utilities, curb, gutters, sidewalk and a new road to access KIE's store.
The Port secured a $176,000 grant/loan package from Yakima County and $25,000 from the city of Sunnyside for the project. In addition, the Port contributed $32,000 from its own funds to help with the improvements.
In the case of KIE's new Sunnyside plant, the Port anticipates the firm will generate $37,000 in sales tax to the city over a five-year period, create property tax revenue for the city of about $13,000 each year and create six new jobs with a total annual payroll of $225,000.
As both a wholesale and retail center, Port Director Amber Hansen anticipates that KIE's 11,000 square foot Sunnyside locale will draw local builders and residents with home improvement projects.
An estimated 5,500 square feet of the space will be dedicated for display and retail purposes.
Currently, Hansen noted, people are traveling to Yakima or the Tri-Cities to purchase home improvement products. And that, she said, "translates to lost revenue for the city and demonstrates a need not being met in the community."
For its part, KIE has already shown a commitment to the Sunnyside community, using local firms for preparing the building site (Anderson Engineering) and supplying the steel building materials (Canam).
The two-acre site sits on an 18-acre parcel of land the Port owns between the Dairy Fair and All-Seasons Foods.
Discussions on the property first began during the summer of 2005, Hansen said, then continued in earnest during August of last year.
Kennewick Electrical and Industrial is a family-owned business with other locations in Hermiston and La Grande, Ore., as well as Walla Walla.
Gus Kittson is the second-generation President for KIE, his father founded the company.
Kittson said the Sunnyside expansion is a natural, given the business his company is already doing in the area, including purchasing materials from PW Eagle just down the road on South First Street.
"We felt it was time to expand, and if you look at the population base within a 20-mile radius around Sunnyside it's somewhat similar to Walla Walla," Kittson said.
In addition to plumbing and electrical componets, Kittson said his company produces sprinkler systems for lawn watering that have been used in cemeteries, cities and parks.
KIE is also providing the plumbing components for planned improvements to Harrison Middle School in Sunnyside.
Kittson said KIE likes the Alexander Road site because of its close proximity to both exits 67 and 69 off of I-82.
Kittson, a past president of the Kennewick Kiwanis Club, also said his company will continue its efforts at community involvement when it opens the Sunnyside store, likely this September.
He also expressed hopes that, just as with KIE's previous expansion efforts, other companies will follow KIE's lead in moving to the 18-acre site near Alexander Road.
"Wherever we move there tends to be a grouping of like businesses that follow," he said. "I guess we're trend setters," he added with a laugh.