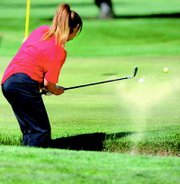 Grandview's Katie Veloz may have come away with the low round on the day, but it was the Sunnyside High School girls golf team that garnered top honors at yesterday's three-school match at Black Rock Creek Golf Course.
Led by senior Vicki Castro, the Lady Grizzlies tallied a match low team score of 269. Thursday's non-league competition, which also drew Goldendale to the Sunnyside course, was limited to just the front nine.
Goldendale, which got a team best 69 from Molly Swift, finished 20 strokes back of Sunnyside with a 289. Veloz shot the low individual round yesterday, a 20-over-par 56, but with only three golfers available the Lady Greyhounds had to post an incomplete team score.
Castro, in leading Sunnyside to the victory, toured the front nine with a 61. The highlight of the day for the senior came on the par-4 fifth hole, where she secure a bogey.
"Pretty much, it was a real consistent day for Vicki," said SHS Coach Gary Rohde.
Senior Gabby Gutierrez was just five strokes back of Castro, posting a 66 for Sunnyside.
"That's a good round for Gabby," said Rohde. "She's lowering her score each time out."
Lady Grizzly teammate Emily Slinker finished on Gutierrez's heels, two strokes back with a 68. Rohde said Slinker, like Gutierrez, is getting better as the season progresses.
Rounding out the team scoring for Sunnyside was Tonnelle Driesen, who carded a 74 for the nine holes of play.
Sunnyside had three other golfers out on the links yesterday, although their individual rounds weren't applied to the team total. Two of them-Alyssa Longoria and Monica Martinez-were making their first ever appearance in a competitive setting. Each of them shot a 78.
"They're both underclassmen," Rohde said of Longoria and Martinez. "They didn't do too badly for it being their first time," he said.
Hannah Vlieger of Sunnyside also competed yesterday, shooting an 80.
In addition to the 56 that Veloz scored for Grandview, the Lady Greyhounds got a 62 from Alexiis McLean and an 80 from Hannah Ziegler.
The Grandview girls will be back in action next Monday, May 7, at Goldendale. The Sunnyside girls team will close out 3A Columbia Basin League play next Monday at the Wenatchee Country Club.