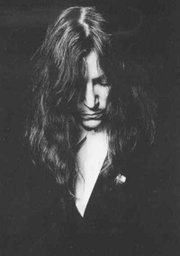 For some rock stars it can be risky to cover someone else's music on their new recordings. Either the song is butchered or it sounds exactly like the original and you think, what was the point?
For instance, take Disturbed's cover of Phil Collins' Land of Confusion. It sounds exactly like Collins' version. What was the point? Or how about Metallica's cover of Bob Seger's Turn the Page. Was that really necessary?
Some bands can make it big with covers. Motley Crue covered The Beatles on Shout at the Devil and had a huge hit with Brownsville Station's Smoking in the Boysroom. In the early 90s the Lemonheads broke into the limelight and made it to the air waves with their cover of Simon and Garfunkel's Mrs. Robinson.
But still, it can be risky, and even riskier if you dedicate a whole album to covers, such as 70s punk poet Patti Smith did recently with her release of "Twelve" April 24, Smith's first release in three years.
Smith is an icon from the 70's with her punky, poetic style. She never really made it big, only had one song ever make it in the top 20, but her fan base is huge and supports her.
Much like the bands The Grateful Dead, Phish, Big Head Todd and the Monsters and Widespread Panic, Smith has had a successful career without having much commercial success because of her fans. There are websites dedicated to her and you can trade recordings of her shows with other people.
On her latest release she covers Jimi Hendrix, Tears for Fears, Neil Young, The Rolling Stones, The Beatles, Jefferson Airplane, Bob Dylan, Paul Simon, The Doors, Nirvana, Allman Brothers and Stevie Wonder.
And she does a good job on all of them.
Her version of Hendrix's Are You Experienced rocks. She performs the song with a slower vibe and it's much more sultry but I like it. I think I might even like it better than Hendrix's version, and that's saying something.
Her cover of Neil Young's Helpless is touching, as is Young's version, but Smith makes it her song.
On Gimme Shelter, a Stones' cut from the early days, she doesn't compete with Mick Jagger's voice but still manages to pull off the song. That was one thing I noticed throughout the album, even if she didn't do as good as job as the original, she didn't annoy me. I didn't mind listening to her version of any of the songs on this album save one.
White Rabbit is such a good song it would be hard to ruin it and Smith doesn't disappoint. Her voice isn't as hypnotizing as Grace Slick's but again she pulls it off. She changes the song up a bit in the beginning, reading poetry, but then the song goes into the familiar drum beat.
The song features a very heavy guitar sound and here guitarist Lenny Kaye does a good job with it. I should also mention Smith's other bandmates. There is Tony Shanahan on bass, keyboards and vocals, and Jay Dee Daugherty on drums and percussion.
On Dylan's Changing of the Guards, I now know what good ole' Bob would sound like if he was a woman. It's the same beat and the same acoustic guitar but the lyrics flow from Smith seamlessly. I suspect it's because she's a poet herself, as is Dylan.
It's hard to compete with Paul Simon's voice but Smith does a good job on The Boy in the Bubble. She makes the music sound like a folk song with a toned down guitar.
She takes away the trippy, acid sound of The Doors' Soul Kitchen without messing with any of the bluesiness of the original song. Once again, she makes this song hers.
When she covers Nirvana's Smells Like Teen Spirit she makes the song into a bluegrass hit.
In a press release from Smith's label, she writes, "Singing along I sensed Kurt Cobain's love of Leadbelly and Roscoe Holcomb. I said, 'listen, you can hear banjo in his voice' and so decided to record it porch style. I identified with the lyrics, the schism of the performer and felt the source of his anguish, the blessing and burden of being an artist."
I liked every song on this album with the exception of Everybody Wants to Rule the World, a song by Tears for Fears. That could be because I don't really like the original song. I'm not sure.
But she does a bang up job with Stevie Wonder's Pastime Paradise. Her voice is deeper than Stevie's and it might be sacrilegious to say someone can sing a Stevie Wonder song better than Stevie can, but she nails it for me.
If you don't know anything about Patti Smith or are her biggest fan, this album will not disappoint. I know I'll add it to my collection.
More like this story