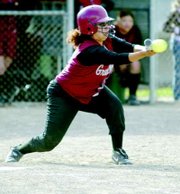 GRANDVIEW - Visiting East Valley proved too much for the Grandview fastpitch softball team, which lost twice at home to the Red Devils last Friday, 12-0 and 19-3.
Grandview was held to just two hits in the opener, provided by sisters Gricelia and Doris Lupercio.
In game two, the Red Devils struck for six runs in the top of the first and never looked back.
Grandview tried to make things interesting though, plating one run in the bottom of the first. Vanessa Medina started things for the Lady Greyhounds with a single and came around to score on an RBI hit by Vanessa Gamboa.
Grandview connected for seven hits in the nightcap, and wrapped up its scoring with two in the bottom of the third on clutch RBI base hits by Gricelia Lupercio and Tina Fraga.
Medina was 2-for-3 in game two with a pair of runs scored. Gricelia and Doris Lupercio were 2-for-3 and 1-for-3, respectively.
Grandview (2-12, 2-14) hosts Ellensburg today (Monday) at 4 p.m. "We're just trying to set goals and make contact," Coach Doug Hanson said of his team's approach to playing the Bulldogs today, which were a 3A team last year.