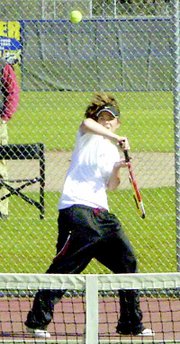 SPOKANE - Sunnyside High School transfer student Vikina Pavlova was unseeded at last weekend's mammoth Inland Empire tennis invite, held in Spokane, but walked away with fourth-place honors.
Nearly 600 players from 47 schools around the region participated in the tennis tourney, in which Sunnyside has had at least one player in Saturday's trophy round for each of the last six years.
Pavlova kept that string alive with four victories in four matches last Friday.
She began with a 6-0, 6-1 win over Shadle Park's Shelley Emch and a 6-1, 6-0 pasting of Cheney's Amy Knox to advance to the third round.
A 6-1, 6-0 win over Southridge's Stephanie Hamilton advanced Pavlova into the quarterfinals to close out Friday's play. In the quarters, Pavlova rallied from a 4-0 first set deficit to upset top-seeded Katie Griffith of Ferris High School, 7-5, 6-4.
"That was her best tennis all year," Coach Troy Whittle said of Pavlova. "Everything was going in for her, something clicked."
Pavlova's stay in Saturday's prestigious final four was short-lived, as a back injury in a 6-1, 6-2 semi-final loss resulted in her withdrawing from the third/fourth place match.
Though Pavlova was the only Grizzly to advance to Saturday's play, Sunnyside's tennis teams had other highlights, as well.
Anthony Gomez benefited from two forfeits to place eighth for Sunnyside in boys singles play. The Grizzlies No. 1 boys doubles team of Jake Wavrin and Hunter Van de Graaf won two matches before being knocked out in the third round to the top overall seed.
"They have an outside shot at making it to State in doubles," Whittle observed of the duo.
Also for Sunnyside, the No. 2 boys doubles team of Jon Martin and Jorge Pacheco won one match.
"We were competitive," Whittle said of the Inland Empire event. "It gave us some confidence."
Overall, the Sunnyside boys and girls tennis teams combined for 23rd place out of 47 schools competing.
The Grizzlies round out the regular season with non-league home matches this Tuesday against East Valley and Friday against a team of high school alumni and faculty players.
Both contests will count on the Grizzlies' overall season record.