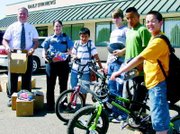 Sunnyside Community Hospital and Sunnyside's Promise have teamed to promote bicycle helmet safety by encouraging young people delivering the Daily Sun News to wear a helmet while riding their bikes to deliver the paper.
The hospital and Sunnyside's Promise showed their commitment to bicycle helmet safety yesterday by donating helmets to the Daily Sun News paper carriers.
"We are encouraging the kids to wear them whenever they ride," said hospital CEO Jon Smiley. "We are also encouraging the newspaper to remind kids of the importance of a bike helmet."
Smiley said the hospital's emergency department sees too many bike injuries, noting that others in the medical field agree that head and brain injuries from bicycle accidents are preventable by wearing a helmet.
It's estimated that each day in the U.S., one child dies and 50 others sustain severe brain injuries from bicycle-related trauma.
Yesterday's helmet presentation was made in conjunction with National Hospital Week.