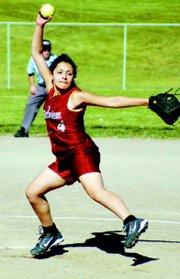 GRANDVIEW - The Grandview High School girls softball team lost 10-0 to visiting Ellensburg yesterday in the first game of a CWAC South doubleheader.
Christina Mendoza pitched for the Lady Greyhounds against Ellensburg in the opener, which was decided after five innings. Veronica Gamboa and Kayla Gonzalez were both 1-for-2 at the plate in the opener.
In game two, Grandview was defeated 20-0 as Gamboa, Doris Lupercio and Marlena Saldana were all 1-for-2 at the plate during the five-inning contest.
The Lady Greyhounds' best shot at cracking the scoreboard came in the bottom of the fifth inning in game two, when Grandview had runners on second and third with two outs. The threat fizzled as Grandview dropped to 2-14 in league play and 2-16 overall.
Grandview wraps up the regular season this coming Friday with a doubleheader at Prosser. Coach Doug Hansen said the Lady Greyhounds have a mathematical chance of advancing to Districts, based on the outcome of Toppenish's contests later this week with Quincy.