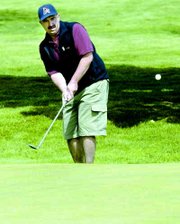 The duo of David Stokes and Ty Schatz rebounded from an opening day one-stroke deficit to capture top honors at this past weekend's annual Bill Christie Memorial Best Ball Tournament at Sunnyside's Black Rock Creek Golf Course.
A total of 36 two-person teams competed at this year's tourney.
Bill Purdy and Bob Hall grabbed the opening day lead with a 3-under-par 69 on Saturday. Purdy and Hall backed up their stellar play with an identical 69 on Sunday, but with Stokes and Schatz lighting it up on day two with a 5-under 67, the first day leaders finished one shot off the winning pace.
Purdy and Hall also gave up ground on Sunday to Rob Marshall and Gary Hutchins. Marshall and Hutchins, after shooting a 71 on Saturday, equaled Stokes and Schatz's 67 on Sunday to finish in a two-way tie with Purdy and Hall for runner-up honors.
Another team to make a move on the second day of the tourney was the duo of Alex Prodoza and Michael Putnam. They tallied a 69 on Sunday, and coupled with their opening 73 finished in fourth place, just five strokes back of the leaders.
Also cashing were fifth place finishing Chris Indall and Akira Nozaka (72-72), and sixth place finishing Joaquin Arambul and Juan Guerrero (75-71). The duos of Del Herring-Gary Holfeldt (75-72) and Steve Smythe-Dean Jorgensen (73-74) shared seventh place honors with identical 147's.
In the net scoring column (actual score minus handicap), Scott Davis and Bob Van de Graaf ran away from the field with a two-day total of 113. The duo netted a handicap-aided, 16-under-par 56 on the opening day, finishing Sunday's round with a handicap-aided 57.
Tied for second on the net side, 12 strokes back of Davis and Van de Graaf with identical scores of 125, were the teams of Ray Pruneda-Lucas Pruneda and Jim Gauley-Dave Grow. There was a three-way tie for fourth place net honors with scores of 128. Those teams were comprised of Jon Bright-Miles Plata, Bob Greene-Randy Teague and Wes Mooney-Brian Weinman.