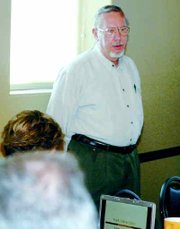 The Sunnyside Christian baseball team needed only five innings to dispatch Klickitat and move on to the second round of District play with a 17-3 victory Tuesday afternoon.
The Knights will now play the champion of District 6 this Friday, May 11, in Wenatchee at 4 p.m.
Aaron Van de Graaf started on the mound for SCHS yesterday and pitched a great game, giving up six hits, striking out six batters and not walking anyone. Two earned runs were charged to Van de Graaf.
After holding Klickitat scoreless in the top of the first inning, Van de Graaf led off the bottom of the first with an inside the park home run.
"He hit it to the deepest part of the field," SCHS Coach Rob Faber said of Van de Graaf's center field shot. "He's pretty speedy and he got around."
Luke Meininger then singled, followed by Cole Van de Graaf's single to put base runners on first and second. An error allowed both to score and Brandon De Vries to get on first.
Lucas Brouwer was then walked and with runners on first and second, no outs and a SCHS 3-0 lead, Klickitat changed pitchers.
Travis Jones then ripped a single that brought home two more runs for a 5-0 lead. Brenen Swofford singled and both Swofford and Jones made it home on passed balls.
The Knights made it 8-0 in the second inning when Swofford singled, bringing home De Vries, who had gotten on base earlier in the inning.
Klickitat got one run back in the top of the third but a huge nine-run performance in the bottom of the third gave the Knights an insurmountable lead.
Faber said the Klickitat pitcher was throwing hard and had four K's before starting the bottom half of the third.
In that frame, though, the Vandals hurler gave up two walks and two hits, allowing three SCHS runs to score before recording his second out. A double, triple and two singles later, the Knights were up 17-1 before Klickitat could retire the side.
"Everybody hit the ball well," Faber recalled. "Devon Swofford got his first hit of the season."
SCHS racked up 18 hits in the game. Meininger went 3-for-4, Jones was 3-for-4 with an RBI and Brenen Swofford hit 3-for-3 with a triple.
Cole Van de Graaf went 2-for-3 with a home run, De Vries was 2-for-4 and Bert Den Hoed hit 2-for-3 with a double. Aaron Van de Graaf was 1-for-2 with a home run. He was also walked twice.
Cole Van de Graaf came into pitch the fifth inning. He faced seven batters, striking out three, walking three and giving up one hit. One earned run was charged to him.
Faber said the next few days before Friday's playoff game will be used to rest his pitchers and work on hitting and defense, especially bunting and the hit and run.
"The things that might become important in a close tournament game," he added.
Aaron Van de Graaf is scheduled to pitch on Friday.