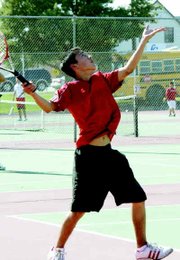 It was our turn," Coach Troy Whittle said of the Sunnyside High School boys tennis team's first victory of the season, a 7-0 romp yesterday over visiting 2A East Valley. "All year we've been the 3A school getting pounded by the 4A teams."
Mitchell Sanchez started the rout for Sunnyside with a 6-3, 6-3 win, followed by teammate Jacob Kresse's 6-0, 6-2 win in No. 2 singles. The Grizzly charge continued in the remaining two singles matches, as Matt Johnson and Osvaldo Alvarez collected 6-0, 6-1 and 6-0, 6-0 wins, respectively.
The Sunnyside sweep was sealed in doubles play as the team of Jake Wavrin and Hunter Van de Graaf prevailed 6-0, 6-0, while the Grizzly doubles teams of Jorge Pacheco/Tyler Carpenter and Anthony Gomez/Randy DeRuyter prevailed 6-0, 6-1 and 6-2, 6-0, respectively.
"It feels good to get a win. This shows the guys that they're not bad players (in being previously winless), it's just that we're playing great teams. There are no gimme's on our schedule," Whittle said of the Sunnyside boys' triumph, which moved them to 1-10 overall and 0-6 in league play. "Practice will be a lot more fun this week."
The Lady Grizzlies nearly made it a sweep for the Sunnyside teams, just missing their second win of the season in the process.
But the hosts fell to East Valley 4-3 as No. 1 singles player Vikina Pavlova had to retire up 2-1 in the first set with a continuing back injury she sustained at last weekend's Inland Empire invite.
That forfeit proved the difference.
"We would have won that match if Vikina had been healthy," said Whittle.
Sunnyside took two of the next three singles matches, as Cindy Gudino won 6-0, 6-0 for the Lady Grizzlies and Elvira Chiprez prevailed in a 4-6, 7-5, 14-12 win. Sunnyside's No. 2 singles player, Regina Mendez, lost 6-2, 6-2.
The Lady Grizzly doubles team of Hannah Paulakis and Gayle Hansen rallied for a 4-6, 6-3, 6-4 win. The Sunnyside doubles teams of Jessica Gonzalez/Crystal Sandoval and Madonna Gonzalez/Kristen Driesen lost by 4-6, 6-2, 6-4 and 4-6, 6-2, 10-5 scores, respectively.
The loss dropped the Sunnyside girls to 1-10 overall and 1-5 in league.
An additional tennis match has been added to Sunnyside's schedule, set for this Thursday, May 10, at home against 2A Selah.