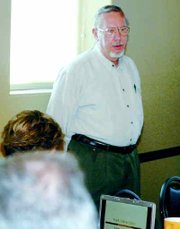 Dr. Doug Wrung had wanted to hunt in South Africa for many years, spurred on by his quest to bag the Greater Kudu.
"The Kudu is bigger than a moose," Wrung said. "At least it's taller than one."
In October of 2006, Wrung was able to plan a trip to South Africa and his wife, Rose Marie, came along for the adventure.
The flight from Seattle was approximately 34 hours to Port Elizabeth, South Africa, Wrung told the Sunnyside Daybreak Rotary Club Wednesday morning. He presented a slide show of his trip to the Rotarians, titled, "A wish, a dream, a plan, reality."
Wrung told the Rotarians the general attitude towards Americans in South Africa is mostly positive but there is a high crime rate in the country.
"Going on a guided tour we avoided that," he said. "It was quite expensive but organized well and safe."
Before Wrung went hunting he and his wife visited animal reserves with 40 different species of mammals calling it home.
"The lions came within four feet of the vehicles," he said as he showed pictures he had taken of the African Kings from the truck he was driving in.
They went to a monkeyland reserve where the Wrungs viewed several different types of monkeys.
On a garden tour of the area, the Wrungs crossed the longest suspension bridge in the southern hemisphere, 171 meters long and 65 feet above the jungle floor.
One picture showed Mrs. Wrung dwarfed by an Aloe plant.
"Animals eat the Aloe plant," Wrung said. "In a lot of areas that's the only source of water for them."
One thing both the Wrungs noticed was the high number of freshly dug graves in South Africa. Wrung said the AIDS epidemic kills 1,000 South Africans a day.
After touring South Africa, visiting beaches, an elephant park and a Khoi tribe village, Wrung finally settled in to hunt.
He was able to bag nine animals. He got his much sought after Greater Kudu, and dropped the fastest animal in Africa, the Red Hartebeest. He also killed a Black Springbok, a common Springbok, a Black Wildebeest, an Impala, a Bliesbok, a Gemsbok and an Eland. He said Elands get to be as big as a Brahma Bull.
The meat from these animals went to feed children and adults on the reserve.
Wrung said it was his best trip yet.
"I was the only hunter in camp," he explained. "We got the red carpet treatment everywhere."
"My favorite part of the trip was being with my husband and seeing his dream come true," Mrs. Wrung added.