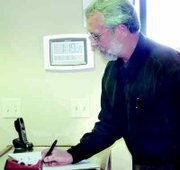 BICKLETON - It's not too much of a stretch to say that probably the whole town of Bickleton turned out for the opening of the Alder Creek Pioneer Carousel Museum.
The whole town, and then some.
Everyone gathered downtown yesterday for the museum's dedication, including Bickleton school children.
According to carousel museum co-chairman Sandra Powers, talk of a museum began in town more than a decade ago. In April 2004, a committee began to investigate museums, revenues and expenses. By September that same year, the idea was formally presented to the Alder Creek Pioneer Association.
Now, several donations, grants and volunteer labor hours later, the doors to the museum that reflect area history are open.
The museum was officially dedicated to the pioneers that settled in the area.
When it came time to thank individuals who made the museum a reality, co-chairman Barbara Clark said the list was so lengthy, she was concerned about leaving someone out.
Said Clark, "The greatest accomplishment of all...is that there are more than 1,000 volunteer hours that have been donated on this project."
Powers concurred, adding that carousel committee trustees understood the vision of what the museum was to become and would work nights to make it a reality.
Clark said that basically the entire community supported the project, whether it was through donations, labor or "spirit, enthusiasm and praise."
During the dedication, Sen. Jim Honeyford and Representatives Dan Newhouse and Don Cox were recognized for their support in getting state funds for the project.
The museum, located at Four East Main Street, is open Thursdays through Sundays; cost is $4 per adult, $1 per child and $10 for families.