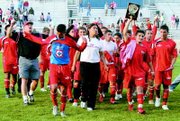 WENATCHEE - For the third time in five years the Sunnyside Grizzly soccer team has won a District title, this time with a 2-1 win over league rival Eastmont.
Sunnyside's victory last night sets up a date with East Valley of Spokane this Saturday, May 12, at Gonzaga Prep High School in Spokane for a 2 p.m. first round State Tournament match.
"We started on fire," Sunnyside Coach Juan Pineda said of yesterday's match-up against the Columbia Basin League Champions. "We were going to every ball determined. Nothing could stop us."
Pineda said his teams' goal was to score early and once again, his team didn't disappoint.
The Grizzlies took a 1-0 lead in the eighth minute of play when Alex Aguilar scored his 12th goal of the year.
The first goal was phenomenal," Pineda said.
Aguilar received a pass from teammate Alejandro Zaragoza near the 30-yard line. Aguilar put a fake on his defender and moved towards the center of the field. He then blasted a shot with his left leg that hit the upper crossbar and dropped into the corner of the goal.
"It was a bullet," Pineda explained. "No one could have stopped that shot. It was the most beautiful goal of the season. It was sensational."
Pineda said his team made Eastmont feel the pressure and while the Wildcats still battled, Pineda said his team's relentless pressure took its toll on the Eastmont players.
The Grizzlies struck again in the 18th minute of play to take a 2-0 lead.
Daniel Valencia made a hole in the mid-field and ran up in front of the Wildcat defenders. Valencia then passed the ball to Brian Galvan, who exploded towards the goal to set up a one-on-one with the keeper. Galvan powered a shot to the right side of the goal and past the keeper.
"After that we moved the ball well," Pineda said. "We had a few more chances to score but we were trying to be conservative and take a 2-0 lead into halftime."
Pineda said when a team is down 2-0 all they want is the ball so they can try to score. With good passing the Grizzlies were able to keep the ball away from the Wildcats, frustrating them.
"It worked well for us," Pineda said.
In the second half Eastmont came out stronger, Pineda said, but his defensive unit stepped up and thrawted Eastmont's scoring attempts.
In the 68th minute of play, Eastmont finally got on the scoreboard with a goal from Armando Avila. Sunnyside's defense was in transition and moving up when Avila received a pass from Juan Lopez, setting up a one-on-one situation between Avila and Sunnyside's keeper, Joaquin Perez. Avila was able to beat Perez by placing the ball into the right side of the net.
Sunnyside then was able to keep Eastmont in check until the end of the game.
"The kids' blood was galloping," Pineda said. "All the hard work, dedication and sacrifice showed. They were confident and thinking together."
Pineda said that's a good quality to have going into playoff games and said his team played to win.
"I'm very proud of them," he added.
Also last night, two Sunnyside players were selected to the CBL All-Star first team. Matt Jongsma and Luis Perez were selected thanks to their defensive game this year. Pineda said Jongsma was pitted against CBL player of the year Javier Tovar last night and shut him down the whole match.
"He did a tremendous job," Pineda said.
Sunnyside's Aguilar, Galvan and Zaragoza were selected to the CBL All-Star second team and Perez received honorable mention honors.