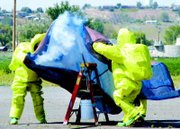 There was an ammonia leak near Sunnyside on Tuesday, May 8, but it was all part of a Sunnyside Fire Department training exercise.
A total of 14 staff firefighters from the city turned out for the training, which included containing an ammonia gas cloud while wearing airtight protective gear.
Lloyd Hazzard is the city's assistant fire chief, and he noted the practice is held once a year to keep crews up to date and prepared for a potential ammonia emergency in the Lower Valley.
"It's used all over the community as a refrigerant," Hazzard explained. "Wherever there's a need for cold storage."
He noted it is a colorless, but not odorless gas, that forms a cloud when it rises into the air.
The key first step, Hazzard said, is to find the source of the ammonia and get it turned off right away. "A lot of times it's in an enclosed area and no one can get in there to turn it off," he said of the caustic harm ammonia can do to the skin as well as internal organs if inhaled.
That's where the fully enclosed suits come in, allowing emergency responders to turn off the leak's source and retrieve as much as possible from the air.
Tuesday's training exercise was carried out on vacant land owned by the Port of Sunnyside. Workers learned to adapt to handling equipment and materials while wearing two layers of gloves to protect their hands.
In a real-life scenario, say if an ammonia cloud was threatening an inhabited area, Hazzard said there are techniques to develop a fog pattern to drop the ammonia to the ground.
Even then, as firefighters learned, care has to be taken so that the ammonia leak does not contaminate the soil.
But then again, it was in a day's work, or classroom, for the 14 firefighters and their ammonia training session.