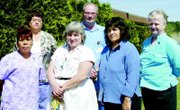 Hillcrest Manor & Rehabilitation Center in Sunnyside held its annual Care Partner Appreciation Tea yesterday to recognize its employees and all their efforts in providing quality care for the residents of the home.
Featured speakers included Elizabeth Emery-Osborn, resident Don Coleman, resident Anna Omlin and registered nurse Marsha Van de Graaf.
Emery-Osborn represented the families of residents. She spoke about her grandmother's care at Hillcrest.
"We (our family) appreciate all of you for taking care of my grandmother, Ardis Emery," she said.
She said she and her family has felt welcome at the manor and the staff members have provided them a comfortable setting for Emery.
"You have shown us how much you really care. I know grandma is in good hands. Hillcrest is grandma's home now," she stated. "My children are comfortable here. They love you and we love you.
"Speaking from the heart, I know bringing grandma to Hillcrest was the right decision."
Coleman said he wanted to thank the staff "from the heart" because they are very caring, and he wanted them to know his appreciation.
"Everybody here has been just wonderful...all the care, all the love...Thank you very much," said Omlin.
Hillcrest Manor was awarded Facility of the Year honors by Eagle Healthcare, the manor's parent company, according to Van de Graaf.
She said 2007 is the third time the facility has been given this award and it was due in part to the perfect surveys and the teamwork demonstrated by staff.
"The good news is there is five thousand dollars we can give back to the community as a part of this recognition," Van de Graaf announced.
Hillcrest Manor also rewarded employees who have served its elders for five, 10, 15 and 20 years, with an anniversary pin.
To conclude the afternoon program Cruz Hall was recognized as the 2007 Employee of the Year for her compassion, smile and her willingness to help boost employee morale.