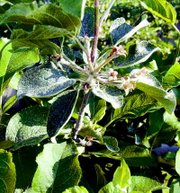 Lack of apple blossoms on area Fuji trees has left some orchardists scratching their heads.
Matt Charvet, who owns an apple orchard in Grandview, said that Fuji blossoms can have a tendency to be splotchy, but that this year, it's more prominent than ever before and he's not quite sure why.
"There's no rhyme or reason to it," he says, walking through a row of apple trees, pointing out a block of about four trees lacking bloom.
Matt Whiting, assistant professor at the WSU extension in Prosser, said, "I have seen some evidence of orchards that have lighter bloom, but industry wide I haven't seen it that much."
Whiting said that there are two contributing factors as to why a tree won't bloom.
He said that environmental conditions, like the several significant frost events in March and April as buds were developing, can have an impact.
High crop loads the previous season can also have an impact. He said that a high yield one year can reduce the number of flowers that set for the next year.
Whiting is seeing a lighter bloom situation in the extension center's research orchard.
"We have a light bloom in our Fuji orchard and I'm sure those two reasons that I mentioned is why our orchard is not heavily blooming this year," he said.
Still, he added, he hasn't gotten the impression that it's going to be a significant concern this year.
&nbsp