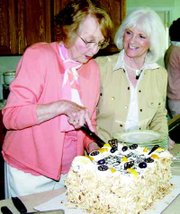 In times of great joy or true troubles, there's nothing quite like leaning on the shoulders of 20 or so of your dearest friends. And if you ask members of the Home Arts Club the number one secret behind their 45 years of success, without hesitation, they'll all respond, "Friendship."
"This club has a special uniqueness as the members have many talents and interests, which has created a very strong support group," says longtime member Margaret Rayburn.
The initial interest behind the formation of the Home Arts Club was gardening. In fact, in the club's early years, it was affiliated with the Washington State Federation of Garden Clubs.
"During this time, many members were actively involved in the art of flower arranging and competitive exhibiting at the Yakima Fair's Flower Show," said Rayburn.
For many years, the women assisted with the Yakima Valley Junior Fair flower show.
"One year, our club planned and hosted the flower show," recalls Mary Alice Charvet. "The theme was 'Strange Encounters of the Flower Kind.' Our strange encounter was a wolverine set in a garden motif. We borrowed it from a local taxidermist."
Over time, though, interests of the club evolved into just about anything pertaining to home-life.
The women have done arts and crafts together, taken home and garden tours, learned about identity theft, home decor-you name it, they've either done it or had a guest speaker tell them all about it. As charter member Thelma Pirie puts it, subject matter at the meetings is "anything to our betterment."
The women have worked toward the betterment of others as well. They donate to local charities and for their December meeting, they bring non-perishable food items for local food banks.
Entering into its 46th year, the club still has five original members. Pirie was chosen as the club's first president in 1961 and, according to Rayburn, is credited for choosing the club's name. Jean Dorsey, Edith Higgins, Mary Alice Charvet and Jean Michels are all original members as well.
Over the years, members have had different reasons for joining. Jan White joined because she wanted to get to know women she'd heard so much about. "There were some members I knew of but did not know," says White.
Club members' ages range from 60 to 87-years young and the friendships keep them going.
"We're all friends. We've all known each other for, well, at least 45 years," says Higgins. "We're close buddies."
"Everyone is there for everyone else," adds Pirie.