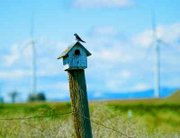 BICKLETON - There's a home-building boom underway in this rural community that will accommodate about 250 families.
Bird home building, that is, as a corporate partnership with Bickleton High School shop students has resulted in the construction of 250 new birdhouses for Bickleton's signature bluebird migration each spring.
Bickleton is known as the "Bluebird Capital of the World" because of the thousands of birds that nest in the region. The area provides prime bluebird habitat, except for a shortage of natural areas for nests.
This season, the bluebirds are getting a boost from PPM Energy, which sponsored the bird house building project with the Bickleton High School shop class.
PPM is wrapping up construction on its Bighorn Wind Power project near Bickleton.
Although bluebirds are common at wind projects, they are not at high risk, according to PPM Energy biologists. Studies indicate the turbines will not hurt the bluebird population, which generally flies well below the blades.
What they do need in order to thrive is the perfect home, built exactly to bluebird specifications.
"There are hundreds of bluebird boxes now, and people enjoy sharing the bluebirds with visitors to the area," said Ada Ruth Whitmore of Bickleton.
Students built about 250 bluebird boxes ready-made for the needs of thousands of migratory birds. The boxes are part of a larger network of hundreds of bluebird homes in existence since the 1960s.
PPM Energy sponsored Bickleton High School students to build these new bluebird boxes based on the historic Brinkerhoff design. The design, created by the first builders of Bickleton's bluebird boxes, specifies a 1 5/8-inch entrance hole.
This is the exact size needed by all-blue Mountain Bluebirds and red-breasted Western Bluebirds, because it keeps out the other birds that might steal their nests.
"Driving through Bickleton, most anytime, you can see the beautiful little birds flitting around, and late spring is the best time to view them," said Whitmore, who carries on the tradition of the Brinkerhoffs, who founded the bluebird trail.
PPM Energy volunteers recently placed about 100 of the new boxes. Each year community volunteers maintain the bluebird boxes and clean them every spring along a bluebird trail route covering about 300 miles.
"It's very important to partner with the communities that host our wind energy projects, and helping to preserve Bickleton's source of town pride and local tourism was a perfect match," said Ty Daul, vice president of renewable energy for PPM.
For more information on PPM Energy and the Big Horn Wind Power Project, visit www.ppmenergy.com.