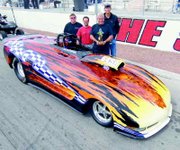 John Dalrymple of Sunnyside has been drag racing since 1999 and last month realized his dream of taking the top prize of best appearing car during a national event in Las Vegas.
But before Dalrymple could win with his new 2004 Don Davis Corvette Roadster, he first lost-170 pounds, that is.
"When I lost the weight I wanted to get into one of those cars and I finally found it," he said of the roadster, a coupe that features an open cockpit. "I'm still getting used to it," he added.
Known as the Autolite Nationals, the NHRA-sanctioned event was held at the Las Vegas Speedway.
Dalrymple's roadster didn't take the top prize on the track, though its 1,100 horsepower engine is capable of clocking in at 173 miles per hour.
No, it's glory in its first competition came with NHRA's best appearing car honor, a recognition that brings with it a trophy that's as big as the race winner's. Appropriately enough, Dalrymple received the top prize in Vegas on April 15, his birthday.
"It's quite an honor," Dalrymple said of the big prize his roadster's eye-catching paint job attracted. "That was my goal when I went down there, to take it there for its first race and win best appearing."
The honor was especially meaningful, he added, because the roadster was chosen from among 600 entries.
Dalrymple added that the attention even garnered his roadster some coverage in a national dragster magazine.
The roadster, named for the Texas-based car designer who created it, is the latest of four rigs that Dalrymple runs in NHRA-sanctioned events.
He's not resting on his Las Vegas laurels, as this week Dalrymple says he and his four rigs and crew are headed to Boise, Idaho to compete in an event there.
Dalrymple says it's not only a team effort at the track-his crew is known as the Johnny B. Good racing team-that keeps his NHRA dreams running.
There's also the home front.
"I've got good employees," he said of the workers at Cliff's Septic Tank Service, which he operates. "My wife Joyce takes care of things when I'm gone."
With a "best appearing" title in hand, Dalrymple says he's going to the Boise race for a shot at winning the top prize on the track.
"We wouldn't go if we didn't think we had a chance," he chuckled.
photo courtesy Richard Carlson
John Dalrymple of Sunnyside, second from right, is pictured with the trophy he and his crew earned for having the best appearing car during a national dragster competition last month in Las Vegas. The car, pictured, is a 2004 Corvette Roadster. Pictured with Dalrymple from left are some of his crew members: Anthony Castillo, Wayne Linder and Bob Ohlde.