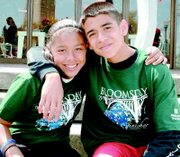 SPOKANE - Approximately 30 residents of Sunnyside participated in last weekend's 31st annual Bloomsday Race in Spokane, a 7K (7.46 miles) race through the city's streets that draws world class athletes.
Herminia Esqueda, with son Jordan and daughter Brianna, participated in the race for the 15th time.
"It's tradition now," she said. "It's a good family thing to do. It's fun."
Esqueda said she's been running the race since the 80's when she was a student at the University of Idaho. When her son Jordan, 15, was first born she ran the race with her husband and a jogger's stroller with young Jordan in it.
Her daughter Brianna, 11, has participated in the race six times, and Jordan now nine times.
"I've noticed more people from Sunnyside have been going," she said. "There was a much larger group this year than last."
Esqueda said she usually runs the first mile so as not to get stuck in the pack and then slows to a walk. The toughest part of the race for her is a hill known as "Doomsday Hill", a part of the course at the five-mile mark.
"It's tough," she said. "We decided to run it. You're pretty much dead after the hill and there's another 2.46 miles to go after that."
She said there is an almost fair-like atmosphere surrounding the race, with plenty of food and bands lining the race route entertaining the racers and fans alike.
When she finished she said she felt great, but was a little sore since she didn't walk much this year before the race. Esqueda finished right after her daughter with a time of 2:00:46. Her daughter, Brianna, finished in 2:00:45.
Her son Jordan finished second among the people from Sunnyside, with a time of 50:49. He ran an average mile with a time of 6:48 and finished 486th out of 39,382 runners.
"Jordan did very well for his age group," his mother said of Jordan, who finished 11th overall in his age group.
Jordan said he has been in the Bloomsday Race since he was born and has only missed it a few times in his 15 years. The first year he actually ran the race, instead of being pushed in a stroller or walking, was when he was 11-years-old in the fifth grade.
"It was hard the first time," Jordan remembered. "Doomsday hill made it hard."
Four years later Jordan said the hill has gotten easier and he has improved his time each year.
His secret this year?
"I picked a guy and tried to stay with him," he answered.
He wasn't in the best running shape for the race, he admits. He didn't start practicing until two days before the event.
What helped was a friendly rivalry with Sunnyside HIgh School Assistant Principal Ryan Maxwell.
"I had to beat him," Jordan explained.
The teen is going to start training soon for the fall cross-country season and will keep it up for next year's Bloomsday Race. He ran cross-country for Sunnyside High School last fall and said he enjoyed it.
"It's really exciting," he added. "I barely missed out on State."
The top finisher from Sunnyside at the Bloomsday Race was Russ Smies, a history teacher at Sunnyside Christian High School.
Smies started running when he was in high school to get in shape for soccer season. He said he would start in August and one day he just didn't stop running.
When he came to Sunnyside six years ago he started running long distance more and more. This was his fifth race in Spokane.
"It looked kind of fun," Smies said of the Bloomsday Race. "I had never done a big race before."
Smies said he and some friends picked up a flyer for the race and decided to give it a try. He's kept coming back ever since.
Smies agreed with the Esqueda family, saying "Doomsday" hill is the toughest part of the course.
"It's not close enough to the finish to get excited and it's far enough away from the start so you're tired."
Smies compared the hill in Spokane to Swan hill here in Sunnyside.
Smies finished with a time of 48:14 and was 306th out of 39,382. He was asked what it felt like to have 39,072 people running after him.
"I never thought about it that way," he said. "I've always thought about the 305 people in front of me.
"It's pretty impressive. I just hope they are having as much fun as me."
Smies did well enough last year to qualify to start up in the front, where he got to glimpse the famous Kenyans, who usually dominate races like Bloomsday.