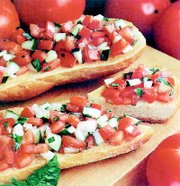 Just paging through Taste of Home's Contest Winning Annual Recipes 2007 is bound to make one's mouth water.
The 359 recipes in the book look scrumptious and there wasn't one I wasn't anxious to try.
Colorful photos and easy-to-follow recipes make up a lovely cookbook I want to have on my shelf.
The chapters include "Snacks and Beverages", "Just Desserts," main dishes, breakfasts and so much more!
There was a recipe I believe my kids would love. It was made with mashed potatoes and fried in little balls.
The recipe I really want to try is much like a bruschetta. It it the Tomato Bread Salad.
These dishes all come from Taste of Home and its sister publications. As in most of the cookbooks from them, there is a bevy of information and an index that makes it easy to find what you are looking for in a snap.
There is something for the whole family in this cookbook, and I encourage cooks everywhere to buy this wonderful cookbook.
Tomato Bread Salad
Dodi Hardcastle, Harlingen, Texas
3 large tomatoes, seeded and finely chopped
1 medium cucumber, seeded and finely chopped
1/2 large sweet onion, finely chopped
1 cup loosely packed fresh basil, minced
1/4 cup olive oil
1 tablespoon cider vinigar
1 garlic clove, minced
1/2 teaspoon of salt
1/4 teaspoon pepper
1 loaf (8 oz.) French bread
In a large bowl, combine tomatoes, cucumber and onion. In a small bowl, combine basil, oil, vinegar, garlic, salt and pepper. Pour over tomatoes and toss. Refrigerate at least one hour.

Before serving, allow salad to come to room temperature. Cut bread in half lengthwise; toast under broiler until lightly browned. Top with salad. Serve immediately. Yield: 18 servings
This is a recipe with nutritional facts and diabetic exchanges. It uses less fat, sugar or salt.