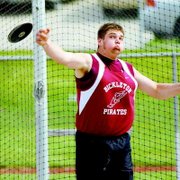 PROSSER - Bickleton's track team fared well at the Greater Columbia B1 and B2 League Championships held at Prosser this past Friday. Both the girls and the boys placed fifth, but of the B1 teams, Bickleton took second to Trout Lake/Glenwood.
"Next week we will score the 2B separately with the first place finisher in each event qualifying for the State meet," said Coach Darrell Lang.
Pirate Eric Hess threw 44-7.75 in the shotput for second place honors and 125-6 in the discus for third. Lang said Hess has a great chance in the shotput and discus in terms for qualifying for State.
Lang added that Lady Pirate Alejandra Molina has a chance at it too, if she can regain her form from two weeks ago.
Johanna Jensen earned a personal record and third place finish for Bickleton in the long jump, leaping to 14-7.50. Said Lang, "Johanna is just inches away from a berth in the long jump, where it will come down to (either) Aryn Davis from Klickitat or Johanna (having a) better day."
Lady Pirate Tricia McBride earned a third place finish in the pole vault, catapulting 6-6.
Patrick Maeder earned a second place finish for Bickleton in the pole vault, clearing the bar at 10-6.
"Patrick has his work cut out for him, as it appears that he will have to jump the state qualifying mark of 11-6.25 to gain a berth, or beat Luke Larson of Trout Lake, who is jumping fairly consistently at 12 feet," said Lang.
Bickleton's Danielle Raschko earned third place honors in the 3,200-meter run, clocking in at 13:11.6, while teammate Junior Hernandez clocked in at 11:11 in the 3,200-meter run for second place.
"Junior and Danielle, who have both had solid seasons running the distance races, are up against state defending champions," said Lang.
"We'll try Danielle in the 400-meter to see if she could pull off an upset," he added.
"We have our work cut out for us if we are going to qualify anyone for State."
Lang said, "It all comes down to next Friday at Zaepfel Stadium in Yakima.
"A solid week of practice and rest on Thursday should help us achieve some more goals for this season," said Lang.