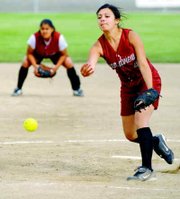 PROSSER - The Grandview girls softball team battled last Friday, but came up short in 9-4 and 11-7 losses at Prosser in what proved to be the season finale for the Lady Greyhounds.
In game one, Grandview grabbed an early 3-2 lead through three innings, only to be stung by a big inning in the fourth when Prosser rallied for five runs to take the lead for good.
Vanessa Medina sparked Grandview at the plate with a 2-for-4 performance in game one and teammate Gricelia Lupercio was 2-for-4.
In game two, Prosser jumped out to a five-run lead in the first inning.
"We played catch up from there," said Grandview Coach Doug Hansen. "We didn't roll over and die and fought to the end."
Grandview made things interesting against the Mustangs with a rally of its own to pull to within 10-6 in the fifth inning, but could get no closer.
Grandview's Veronica Gamboa was 3-for-4 in game two with two RBI and teammate Kayla Gonzalez was also 3-for-4. Doris Lupercio had a triple for the Lady Greyhounds and knocked in two runs in the nightcap.
Grandview ended the season at 2-16 in league play and 2-18 overall.
Though the 2007 campaign ended with two losses, Grandview has most of its squad returning next year as it will lose only two seniors off of this year's team, Gricelia Lupercio and Tina Fraga.
For the season, Hansen said Grandview batted .330 as a team, a 22-point improvement over 2006.
Leading the way was sophomore Doris Lupercio with a .523 batting average, seven triples, six doubles, four home runs, 27 RBI and a .1015 slugging percentage.
Lupercio's sister, Gricelia, batted .438 and Medina batted .386. Veronica Gamboa batted .353 for the Lady Greyhounds and teammate Kayla Gonzalez hit for a .294 batting average in her first year of varsity play.