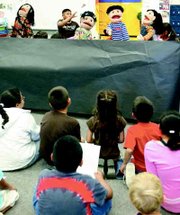 A tour of Sunnyside Community Hospital by Chief Kamiakin Elementary School students spurred Erika Barrom's fourth grade students to write and produce a play.
Barrom said her class toured the hospital March 9 and in the play, all the things her students saw and learned were introduced.
During the tour at the hospital, the staff had puppets available at each of the stations the students visited, which included the radiology area, the birthing center, medical records, the pharmacy, the lab and the ER.
Once staff explained to the students about each different station, the students were asked if they had any questions. The puppets were on hand to ask questions in case the students were too shy.
Hospital staff then asked the students of Barrom's class if they would write a play, using the puppets as characters.
Two months later, Barrom's students were ready and performed their play yesterday (Monday) for a class of kindergarteners at CK.
According to Alec Leal, a student of Barrom's, the script was titled "A Trip to the Hospital" and was written so younger kids wouldn't think the hospital is a scary place.
Felice Garcia, who according to Barrom was instrumental in writing the script, said, "The story is about Sammy getting hurt because he was running in the hallway of the hospital and ignored the wet floor caution sign.
"He slipped and broke his arm."
The play then details Sammy's time in the hospital and the various stations he must visit to fix his arm.
There were seven characters in the play and according to Garcia, "Sammy finally got his cast off and he was happy."
Corey Russell/Daily Sun News
Fourth grade students at Chief Kamiakin Elementary School use puppets from Sunnyside Community Hospital to perform a play for kindergarteners that makes a hospital visit less scary.