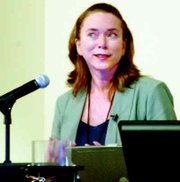 SPOKANE - It sounds like a character out of a James Bond movie, or the latest sports car from Europe.
But Mig-7 might just be a cure for cancer and a means for early detection.
WSU professor Suzanne Lindsay presented her findings on the cancer gene during a conference in Spokane last Thursday that presented some of the latest research technology.
Lindsay said she first decided to try to isolate Mig-7, a short handle for a long gene name, back in 1998 when she was at the Oregon Health Sciences University in Portland.
"It took about two weeks," she said of tracking down the gene.
The hard part has been reproducing it under lab conditions and fine-tuning the research. That, she said, was accomplished just recently after nine years of work.
"It's a difficult gene to work with, it's a different matter to try and recreate it in a lab dish," she said.
Mig-7 presents possibilities in that it is found in a wide range of cancers, Lindsay said, while some of the current gene approaches focus on specific types of cancer, like breast cancer.
Mig-7 is found in cancer cells and is often responsible for spreading the disease to other organs in the body. If you attack Mig-7 then you can diminish the spread of cancer, Lindsay said,
She pointed to research which shows cancers invade four times fewer cells when the Mig-7 gene is inhibited.
Lindsay said Mig-7's potential includes use as a detection method for tumor cells that escape current testing procedures. If Mig-7 is detected, for example, then cancer is present since that is where it's found.
Then there is the possibility of Mig-7 as cancer vaccine.
Lindsay said 18 to 20 amino acids would need to be removed from a Mig-7 gene to develop a specific antibody that could then be injected into a vein. She said it's a similar process to that used in developing a polio vaccine that has virtually made the disease history.
It's also a similar technology, though isolated for more specific cancers, that was used to help Sunnyside resident Ken Ruppert win his second bout with cancer.
"It was essentially the same technology that was used on me six years ago," he said of his bout with non-Hodgkins Lymphoma. "It works an awful lot like an antibiotic." In his case, the treatment focused on just blood-borne cancers, like lymphoma.
He said the treatment "turbocharged" his immune system in fighting the cancer cells.
Ruppert credits a combination of medicine along with faith in God and prayer-"They work together"-as keys to his cure.
He expressed support for the WSU research that uses Mig-7 to tackle a wide-range of cancers.
"I'm in favor of any kind of treatment that gets away from killing good and bad cells," Ruppert said.
Lindsay said Mig-7 still needs millions of dollars of research and testing before it becomes available to the public.
Funding cancer research is what this coming weekend's Relay for Life in Grandview is all about and one of the event's committee members, Dawn Fitzgerald of Prosser, thinks the recent developments at WSU are hopeful signs.
Fitzgerald's mother died of cancer in 2001 and she sees Lindsay's research as "a step in a positive direction."
She praised the potential of Mig-7's potential for early detection, noting that many cancers, like her mother's, are often untreatable by the time they are diagnosed.
"It gives some hope," Fitzgerald said of Mig-7. "It would definitely be neat to see."
J