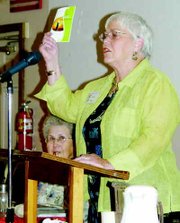 PROSSER - The Lower Valley Christian Women's Club met in Prosser this past Monday afternoon to hear guest speaker Gail Bauer give her testimony on how God restored her soul from old to new again.
Bauer began by telling the women that she once restored a 1911 Torpedo Roadster.
"I took it and restored it and it was such a great thrill to do that- to see something old become new again," said Bauer.
Then, she conceded, "I was in dire need of restoration."
Bauer then went in to the story of her life growing up in Texas on a ranch with 1,500 head of cattle and a mother who woke her up every morning by saying, "Get up Gail! Today is going to be a terrific day." Gail said that because it was her mother, she believed her.
Until one day, at the age of 12, Bauer got out of bed to go doctor the cows. After a torrential downpour mixed in with the cow pasture contents, Bauer said she stepped in a hole and got the wet goop inside of her boots, ran to her mother and said, "Today is not a terrific day!"
Her mother cleaned her up, then sent her to her bed for the rest of the day, without lunch and supper and no activities to entertain her.
At that point, Bauer said, she learned a powerful lesson about attitude.
In the meantime, growing up, her father always told her that if she had a dream and wanted to accomplish something, she could do anything. But, the key aspect of that, he said, is to always seek God.
As Bauer went through her life, she got married to a non-Christian man and looked to "worldly" things to bring her happiness. When it occurred to her that she was without the values she'd been raised with, she gave her husband an ultimatum- go to counseling or get out. Instead of opting for counseling, he left her.
At this point in her testimony, Bauer confessed that the only time she talked to God was when she needed something. And her focus was to continue to work harder then ever.
Bauer became focused on aviation. "It was cheaper than a psychiatrist's couch," she joked.
She built and flew her own planes across the United States. She appeared in Newsweek and Time Magazine and even landed on the front page of USA Today.
"As wonderful as my flying is...I still had an emptiness inside," she said. "Out of all my energy, I still had not built a relationship with God."
Bauer ventured into the business world, opened a hard chrome plating plant and was met with instant success. When the recession hit, she had to temporarily close down the plant.
Out of anxiety and pacing the floors, Bauer turned to God. In a few weeks, business picked up. Bauer got married.
She was happy. Then her husband got sick. And seven days after being diagnosed with cancer throughout his body, he died holding her hand.
Deep depression followed. Then, as she put it, "my body blew up inside." After becoming healthy and told she was going to live, Bauer felt like a failure. Then she recalled something a Hospice caregiver had told her when her husband was sick, that she had to change her thinking.
She then entered into a career that featured Dale Carnegie training, which has 60 basic Biblical principals but puts them into more understandable words.
"I was really starting to feel like my soul was being restored," she said. Through prayer, she said, she could feel her relationship with God coming back.
She then visited her 89-year-old mother. During that visit, her mother looked out the window and said, "It's going to be a terrific day." Her mother died that day.
"I went down for a third time into deep, deep depression," says Bauer.
This time, she turned to God. "Please just take the hurt away," she prayed.
That night, she dreamt her mother and father were with her in a garden where Bauer was praying. Suddenly, her mother and father appeared behind her. Her mom told her to let her go.
"I was crying, but (that hurt) was lifted. That time, I was grateful," said Bauer.
Bauer said she learned "that God can solve any problem we have, if we just trust in him."
Shortly after that, Bauer was in flight with her dog and all of her electrical equipment stopped working. She figured it'd be OK, she knew which direction to go and she knew she'd find a safe place to land. But the ground was covered heavily in fog. She kept flying, but after three hours, her gas gauge was in the red.
She said goodbye to her dog and then thanked God for sticking with her when she felt she didn't deserve it. But she added, "If you still have something to do for me, stick an airport underneath me."
She looked down to see a strip of runway. She landed safely, 300 miles off course, in a little town called Shelter Cove, Calif.
"When God is in control of your life, it's so much better. I am here because I'm part of God's plan.
"Today is going to be a terrific day," she said. "Just follow Jesus. Have a terrific day, everyday, for the Lord."