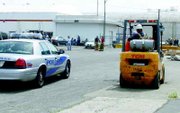 GRANDVIEW - A loud whooshing and hissing noise that could be heard throughout Grandview's downtown core startled residents yesterday afternoon following an ammonia purge at a nearby plant.
Grandview firefighter George Saenz had just finished hosting a tour of kindergarteners at the fire station. After letting them out the doors, it wasn't too long before the kindergarteners turned around and came right back due to the heavy odor of ammonia.
After getting the children and their chaperones sheltered in the building, he headed straight to the plant, which is basically a few yards from the fire station.
Once there, Saenz realized there was an ammonia cloud drifting in a northeastern direction.
At this point, Grandview police officers headed out into the community to determine the level of ammonia odor in Grandview.
The smell dissipated within moments.
According to Saenz and plant manager Joe Martinez, the event wasn't a continuous leak of ammonia, but rather a safety purge. Both said the system the plant uses for cooling that uses the ammonia is designed to purge to avoid any kind of more serious disaster, like an explosion.
"Everybody started doing exactly what they needed to do," said Saenz, who had put Sunnyside's ammonia team on stand-by.
"This is the first time something like this has happened," said Martinez. He added that the first thing plant workers did was to evacuate and do a head count.
"Everybody did exactly what they were supposed to do (at the plant)," Martinez said, praising staff safety training.