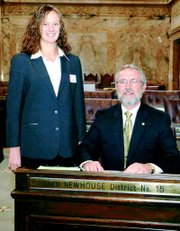 OLYMPIA - Danielle Newhouse spent the final week of the Legislative session in Olympia serving as a legislative page in the state House of Representatives. She was sponsored by State Rep. Dan Newhouse (R-Sunnyside).
She is the daughter of Mr. and Mrs. Gilbert Newhouse. She attends Sunnyside Christian High School.
Young people from across the state have traveled to Olympia to serve as pages for the Washington State House of Representatives since 1891. Nearly 400 students between the ages of 14 and 16 participates this year in the legislative page program.
Page responsibilities include delivering messages and documents to legislators in their offices, committee meetings, and the House chambers during floor sessions. Each job is vital to the efficient operation of the Legislature.
In addition to assigned duties, they were required to continue regular schoolwork two hours a day and also spent time in the Legislative Page School learning about state government.
To become a page a student must be sponsored by a legislator, be in good academic standing and obtain permission from their parents and school. Pages are paid a stipend for their service and most of them live with volunteer host families while in the state capital.