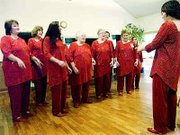 GRANDVIEW - The Country Park Concert Series, "A Real Family Affair!" is set to begin this coming Tuesday evening at 7 p.m.
The first concert, sponsored by Grandview Rotary Club, YVCC and Grandview Parks and Recreation, features the YVCC Salsa Band.
According to Grandview Parks and Recreation Director Mike Carpenter, the group is lively and fun.
Food and beverages will be available at the concert. Barbecued hamburgers and hot dogs are featured on Tuesday's menu.
Tuesday, May 29, the community can enjoy the second concert in the series featuring a gospel variety. The Grandview Ministerial Association is co-sponsoring the event, which will again have hamburgers and hot dogs available for those in attendance.
The third feature of the series will be the Rolling Hills Chorus, scheduled to perform Tuesday, June 5. This group is popular among many Valley residents.
The menu during the concert will include barbecued beef and chips.
The Rolling Hills Chorus is also the co-sponsor of this event.
Mister Orange, a rock group, will be featured at the fourth concert.
Grandview Chamber of Commerce is co-sponsoring the Mister Orange concert Tuesday, June 12. They will be serving barbecued hamburgers and hot dogs at the event.
The final concert is scheduled for Tuesday, June 19. Grandview Kiwanis Club, co-sponsors of the concert, will be serving salmon at the Dan Maher concert.
Maher is a folk musician and he is featured on Northwest Public Radio in Pullman at Washington State University.
Pre-ticket sales are necessary for the dinner. Call Gary at 882-2190 for tickets.
All concerts are free to the public. Donations for the food and beverages are appreciated.
Food will be available at 6 p.m. at each of the events and concerts will begin at 7 p.m.
The concerts will be held at Grandview Country Park, located on Wallace Way.
For more information, call the Grandview Parks and Recreation office at 882-9219.
&nbsp