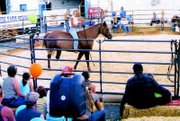 Renowned international horse trainer Jina Stritzke will return to the Lower Yakima Valley in May for two free horse training clinics, sponsored by Bleyhl Farm Service, Inc.
Stritzke will be teaching horse handling techniques, using a group of previously arranged local volunteers and their horses. She also will address any individual horse-handling problems those riders may have. The public is encouraged to attend and ask questions. Bale seating will be provided, but adults might be more comfortable if they bring their own lawnchairs.
The clinics are part of a free two-day "Evening With Equine" event sponsored by Bleyhl Farm Service in conjunction with Lake Country Feeds. Activities begin at 6 p.m. nightly, on Tuesday, May 22, at the Toppenish store, 205 Asotin Ave., and Wednesday, May 23, at the Sunnyside store, 1720 Eastway Drive.
The evenings kick off with a Mexican dancing horse demonstration by Outlook resident Victor Almaguer and his award-winning stallion, Fusilero. Lake Country feed expert Mike Miller will present a body scoring clinic and discuss proper feed nutrition. Stritzke's clinic will follow and is slated to last about an hour.
Community residents are invited to bring the entire family and enjoy free hotdogs, chips and pop from 6 to 8 p.m. There will be numerous door prizes, free balloons for kids, and Buy-1, Get-1-Free specials on high quality Lake Country and Purina feeds. KXDD Country Radio will be on hand for a live remote broadcast each day, beginning at 5 p.m.
Bleyhl is a new supplier of Powder River livestock panels and gates, which will be used in the horse clinics. Powder River representative Pat Mallon will be available both days to talk about these products.
The Bleyhl/Stritzke team presented two popular horse training clinics last year in Sunnyside and Pasco. Stritzke's lifetime experience with horses is reflected in her sensible approach to horsemanship. She combines a broad range of disciplines into a unique style that emphasizes an owner-horse relationship based on good communication and mutual respect.
Bleyhl Farm Service is a farmer-owned cooperative that stocks feeds, animal care and show products at retail stores in Grandview, Sunnyside, Pasco, Zillah and Toppenish. The company also includes irrigation, petroleum and agronomy departments to serve Central Washington's agricultural needs.