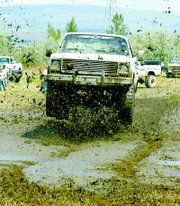 The Tuff Enuf Cascade Crawlers Jeep Club is planning its fourth annual mud race for Saturday, June 2, behind the Lava Rock Nursery on Cody Road, off of Alexander Road in Sunnyside.
But to host the event, club members are asking for help from the Lower Valley community.
Organizers are asking businesses for donations or to be sponsors to help make this year's event a success.
Albert Waterman is a delegate who represents the local jeep club at the state level, and he anticipates there will be about 100 participants from as far away as Oregon and Idaho.
"It looks like we're going to have some pretty high horsepower rigs," he said. "We have quite a few in the super modified (450 horsepower and up) and some in the extreme modified (1,000 horsepower and above."
Waterman said attendance for the event usually averages about 500 people, though up to 700 have attended the Sunnyside event in the past.
Gates open at 7 a.m. for participants and 9 a.m. for spectators for the June 2 mud race. The race starts at 10 a.m. with an awards presentation taking place one hour after the last race.
Admission is $5 for spectators and children ages five and younger will get in free. Participants pay a registration fee of $35 which goes towards $6,000 in prize money.
The good time is also for a good cause, as proceeds will benefit charities and local families.
Waterman said some of the charities which benefit from the mud race include needy families during Christmas and Thanksgiving, as well as the Gospel Mission in Yakima and cancer victims. Last year, mud race proceeds also sponsored two youths to attend a Young Life summer camp.
"We don't keep much of the money," he said. "We keep just enough to help put on another mud race next year."
For more information on this year's mud race, or to be a sponsor, contact Waterman at 305-0154. Another contact is Waterman's son, Jeremy, who is president of the Tuff Enuf club. He can be reached at 391-0722.