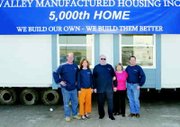 What started as a small operation with seven employees back in 1989 has mushroomed in to a large operation with more than 180 employees at its manufacturing plant alone.
Art Berger started Valley Manufactured Housing, Inc. in Sunnyside 18 years ago because he wanted to be able to build a quality manufactured home for people without cutting costs or charging too much for the home.
He had been working in the mobile home industry since 1976 when he decided to branch out on his own.
His vision bore fruit and his company recently sold its 5,000th home.
"I feel gratified of the acceptance of the homes," Berger said. "I feel we earned that gratitude because we have built products that have excelled in the industry."
Berger and his company have been so successful that last year was the 14th consecutive year Valley Manufactured Housing, Inc. has been the number one seller of manufactured homes in Washington.
To celebrate the 5,000th sale, Berger held a BBQ at the Sunnyside plant to honor his employees.
Berger has three family members working for him. His daughter, Tisha Busey, is vice president of Valley Quality Homes, the sales office in Yakima. His son Darrin Berger is co-general manager of the Sunnyside plant as well as his son-in-law, Brad Busey.
Tisha Busey said the 5,000th home sold is a 2,700 square foot triple section unit that recently rolled off the assembly line. This home features top quality amenities such as oak cabinetry, premium vinyl windows and copper plumbing, which is found in every home Valley Manufactured Housing, Inc. builds.
The company makes three types of manufactured homes - cottage, manor and mansion style homes and all come in either double or triple section units.
"The structural integrity is common on all of them," Berger said.
The company sells homes in Washington state and parts of Oregon and Idaho.
"We're the only manufacturer in Washington that has its own dealership and salaried staff," he added.
"We're fully accountable from start to finish because we do it all," his daughter explained.
The home is built by the company, sold by the company and then assembled and cleaned by the company.
Valley Manufactured Housing, Inc. hires local workers and uses local suppliers whenever possible. The company is able to produce more than one house per working day in a year.
Darrin Berger said his father is able to offer quality homes at an affordable price because the business is family run and doesn't have the overhead most other manufacturing companies have.
Corey Russell/Daily Sun News
Family members Brad Busey, Tisha Busey, Art Berger, Barbara Berger and Darrin Berger stand in front of Valley Manufactured Housing, Inc.'s 5,000th home recently built.