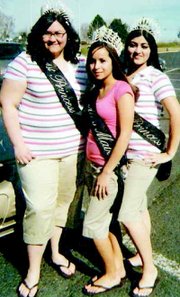 MABTON - As the current Miss Mabton Court readies to hand over their titles to the 2007-08 court, the ladies have plenty to reflect on from the last year.
Most notably, Miss Mabton Sierra Rivera, First Princess Juliana Alaniz and Second Princess Belica Gutierrez recall the young man they say is their "biggest fan."
The young man, a Sunnyside boy with Down Syndrome, met the girls shortly after they were named to the court in 2006 at a Wal-Mart appearance in Sunnyside.
"He came up to them the day after they were crowned and just kept telling them how beautiful and pretty they were," recalls Rachel Ruelas, 2006-07 program coordinator.
Adds Rivera, "He came up to us and was saying, 'I like you, I like you.' He kept touching our crowns, saying we're pretty."
Touched, the girls visited the boy's home, hand delivering a picture of the court and a button he could wear that also pictured the girls. While there, the court had pictures taken with him.
A friendship was struck, Rivera and Ruelas say, and the boy followed them to every parade.
"Each time they had a parade, he would be there, yelling and clapping for them," said Ruelas.
Recalls Rivera, "It was awesome to have someone do that for us."
While the young man was their highlight, they did engage in several activities throughout the year to keep busy as well.
According to Ruelas, the girls sold homemade lemon meringue pies as a fundraiser and were met with huge success.
At parades, she says, they earned numerous plaques, ribbons and trophies while representing the Mabton community.
The girls also organized an Easter Egg Hunt for wee ones in the park. They lent a helping hand at the Thanksgiving dinner at the VFW, Ruelas added.
The girls have been a big part in grooming the four Little Miss Mabton candidates for their pageant, which takes place on Thursday, June 7.
"They catch on better than the big girls do," Rivera says with a laugh. "They put so much effort into everything they do!"
And though their reign ends in early June, Rivera is hoping to slip in one last community service project at the library, where she plans to host a tea party and teach young elementary school students proper manners and "how a little princess sits" during such engagements.