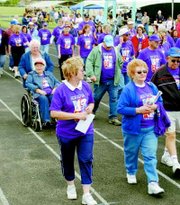 GRANDVIEW - With 68 teams representing 800 participants, last weekend's Relay for Life event at Grandview High School raised approximately $112,000 for cancer research, topping last year's total of $110,000 raised.
The relay teams overcame wind and rain to see the fundraiser through.
But that was nothing compared to the obstacles facing youngster Ilse Ornelas of Grandview. In the lead-up to Saturday's opening survivor's lap, Ornelas with help from her mother Carmen faced a crowd of several hundred people and told of her encounter with leukemia. "Soon I'll be okay," she said.
Or, for example, consider the obstacles faced by Portland resident Jeff Newell, who lost his father to cancer five years ago, then about a year-and-a-half later was diagnosed with cancer himself.
He described the added pain of having to tell his mother about his cancer diagnosis.
And that, he said, is why Relay for Life exists in Grandview and around the country in raising funds for cancer research.
"It's so that my child or your child won't have to walk through a door and tell you they have cancer," he said during an at times emotional address.
As Grandview Mayor Norm Childress noted, "It's about supporting each other and raising money to beat this disease."