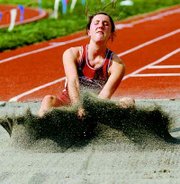 PROSSER - The Grandview High School track team competed at District this past Friday in Prosser.
Brittnee Sanchez and nine of her teammates qualified for State at Districts.
Sanchez was victorious in both her events. She finished ahead of the competition with a time of 2:25.65 in the 800-meter run with her closest competitor, Lisa Heer of Ephrata, following in 2:29.51.
In the 1,600-meter run, Sanchez finished the event more than 20 seconds ahead of runner-up Brandi Eloff of Ephrata with a time of 5:20.8.
Grandview's Kealy Johnston earned runner-up honors in the long jump with a leap of 16-11, just three inches off the 17-1 mark made by Othello's Courtney Kirkwood.
Johnson also qualified for State in the triple jump with a third place leap of 34-8. The victor in that event was Shene Davis of Selah, who leaped 37-4.
Also earning second place honors was Juan Razo for the Grandview boys. He ran 40.45 in the 300-meter hurdles, following first place finisher Ryan Young of East Valley, who was three-hundredths of a second ahead of the Greyhound runner. Young's time was 40.42.
Both Grandview's boys and girls 4x400-meter relay teams earned runner-up honors. The boys team, consisting of Timo Wilkin, Viano Perez, Francisco Valencia and Juan Razo, finished the relay just a quarter of a second behind Prosser, with a time of 3:30. The girls 4x400-meter relay team ran the event with a finishing time of 4:14.47. The four girls competing in the relay included Kealey Johnston, Krystal Martinez, Anastasia Andrews and Brittnee Sanchez.
Both teams qualified for State with their performances.
Rounding out the State meet qualifying performances for the Greyhounds were those who earned third place standings at District. Two-event qualifier Anna George earned berths at State with a 102-7 throw in the discus and a 119-8 performance in the javelin. Grandview runner Wilkin, member of the 4x400-meter relay team, qualified with a finishing time of 53.46 in the 400-meter dash. Also earning third place honors at District was Joe Babcock with a leap of 41-8.5 in the triple jump, qualifying him for a berth at State.