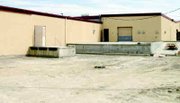 GRANDVIEW - The Yakima Valley Community College Viticulture and Wine Center construction is nearing its completion.
Construction at the old Safeway building at the corner of Grandridge and West Wine Country roads began the first week of January.
According to YVCC spokesman Trent Ball, the construction is scheduled to be completed by the beginning of July.
"The majority of the construction is supposed to be done by the end of June, with touch-ups to be completed in July," he stated.
The center will feature space for two incubator wineries and a tasting room.
"Move in should begin in late July and early August," said Ball.
Two programs will be facilitated in the center. On the south end of the building will be a health center. The north end of the building will house the viticulture and enology program with an undeveloped area reserved for future expansion.
The building has undergone installment of new heating, air and filtration systems. The ceilings have been dropped to give the building fluidity.
"The old pharmacy is the tasting room and future expansion area," Ball commented.
The two incubator spaces will be utilized for start-up wineries that will share the tasting room.
From the tasting area, a teaching winery will be able to be observed through a window separating the two areas.
A barrel room is being implemented into the floor plan for wine storage and a Diemme wine press can be shared by the teaching winery and the two incubators, according to Ball.
The classes featured in the building will help students learn how to make wine, market and sell it and develop a business plan by observing the incubators.
Another feature at the facility already completed is an elevated crush pad for receiving the fruit to be crushed and pressed upon arrival.
"It is amazing what is becoming of the building," noted Ball.