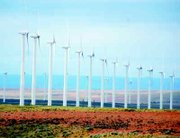 BICKLETON - Accompanied by a flag salute from Bickleton Cub Scouts and music by the Bickleton High School band, officials from PPM Energy yesterday cut the ribbon to dedicate the Big Horn Wind Power Project.
Five years in the making, the project generates enough energy to power more than 60,000 homes. PPM officials say the project spans approximately 15,000 acres, but the actual "footprint" of the turbines and associated facilities uses approximately 2 percent of the total area within leased land.
"Big Horn and our other successful wind projects in the Northwest prove PPM Energy's commitment to developing renewable energy sources in ways that benefit our customers, local communities and the environment," said Ty Daul, PPM Energy's vice president for renewable business development.
Daul smiled as he recalled the "intimidation" he felt the first time he met with Bickleton residents in trying to show the benefit of the wind energy project.
That's a far cry from yesterday's turnout, which saw about 500 people-including many Bickleton residents-show up to celebrate the dedication service.
"It's working out pretty good," said local Ina Marvel, who rents out a portion of her property for a wind turbine.
Even Bickleton's trademark bluebirds seem to get along with the turbines.
"It's working out," said Ada Ruth Whitmore, local resident and longtime proponent of the bluebirds. Though, she added, "It sure changed the scenery."
Whitmore did praise PPM's efforts to include the Bickleton community in yesterday's ceremony, and the company's generosity in helping with community projects.
Also gaining notice is PPM's message about green energy sources, such as wind.
It's a message that appears to be spreading in this small community.
"Wind is clean energy," offered Dean Miller, a farmer in the Bickleton area. "I think people in general have to do their part to make clean energy."