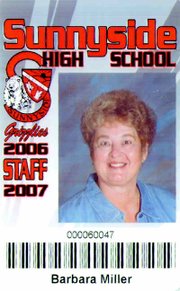 After 37 years of Sunnyside School District involvement, Barb Miller is ready to do it: retire.
"It's time," she says, simply.
In August of 1970, Miller jumped in feet first and, over time, has served as volunteer parent, classroom mother, PTA member and officer, Sunnyside High School booster member and president, "bake sale queen mom," magazine sales chairperson, chaperone and substitute secretary.
Fifteen years later, she began working at Outlook Elementary School as a third grade para-pro in April 1985. Two months after that, Miller was hired as the principal and ASB secretary at Sunnyside Junior High School.
"Many late hours were spent with the beginning of the computer system in the school buildings," she recalls.
Miller wanted to work with high school age students and by 1987, had transferred to the high school to work as the attendance clerk.
By 1988, Miller landed her dream job: ASB/athletic secretary at the high school.
She's been in love with her job ever since, and it's evident in her immediate response when one asks what she'll miss the most. Her answer, as she points to her office door, "Walking through that door every day."
There's no doubt Miller will stay active in retirement. "You see these little darlings right here,?" she asks, pointing to pictures of her grandchildren.
Miller and her husband Dale have five granddaughters and a grandson. And, she says, "They're very much a part of our lives."
Of the Millers' three children, two live on the west side of the mountains.
Travel isn't the only plan on the agenda. "I like to garden, I like to decorate, I like to play cards, going to (sport events), and I love to sit and play pinochle. Just that kind of thing."
Over the past 37 years, Miller's seen some serious technological advances. She recalls the school district using ditto machines and mimeographs for making copies. Now, to fire off a memo, one can simply email. To make test copies, one simply turns the copy machine on and enters the desired number.
Miller said her co-workers are like family. "We really do work and support each other," she said.
She has high words of praise for the students, too. "I really like the rapport with the students. It's (one of the) greatest parts of the job--waiting on kids and parents."
Though she's retiring effective the end of this school year, one should not expect Miller to simply disappear.
"I'm definitely still interested in the school district. I'm not going to pull a blanket over my head. I'm not that kind of person," she says.