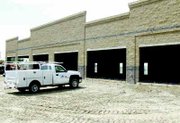 GRANDVIEW - A new mini mall is beginning to take shape in Grandview, thanks to construction efforts by Sunnyside's Mountain States Construction Company.
According to developer Joel Ylvsaker, the 9,000 square foot mini mall will be known as Wine Country Plaza, aptly named as it's located on Wine Country Road next to Les Schwab Tires.
"We're hoping to be done, open and going by the latter part of August, first of September," said Ylvsaker.
The plaza will house six suites, each approximately featuring 1,500 square feet.
Currently, Ylvsaker is in the middle of negotiations with potential tenants, including an espresso/coffee shop, interior design office and a potential nail salon.
Thus far, no deals have been inked, but interest is high, Ylvsaker said.
"We're getting a lot of responses from potential tenants," he said.
"The fact is, we're excited about the potential of that mall in Grandview."
Ylvsaker said he's excited about the growth potential in the Lower Valley, including Grandview.
"A few years from now, there's going to be a big difference (in the business communities)," he said.
Ylvsaker said he welcomes calls from potential tenants. Those interested should call him at 509-388-5995.