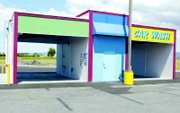 Sunnyside's latest and seventh car wash opened May 15 at 2582 Yakima Valley Highway, behind Columbia Electrical Supply.
The new car wash is owned by ELT Properties, LLC, according to project superintendent and acting manager Ron Valdez.
Valley Center Car Wash sports three washing bays, with one of them designed to service semi-trucks and RVs.
Valdez said the car wash was built to service customers frequenting the merchants located in the former K-Mart building at 2600 Yakima Valley Highway.
"It was a matter of what the property could hold and to make it more comfortable for people coming through the mall," he added.
The new car wash is the only one in the northeast section of Sunnyside and he said in the first four days of business, traffic has been pretty heavy, considering the only markers are a few flags and limited signage.
It will cost a person wanting to wash their vehicle $1 for the first four minutes and then 25¢ for each additional minute. Valdez said he plans on keeping the price low as long as he can.
The car wash features a pre-soak with a chemical that fights grease and grime, the wash cycle, a foaming brush with cherry flavored luster foam, a rinse cycle, wax cycle and then a spot free rinse.
Valdez said with the spot free rinse a person won't need to dry their car and still there won't be any spots left over.
The car wash also has three dispensers where a person can get Armorall rags, wheel rags and wet rags. On site are two brand new vacuums as well as a change machine capable of giving out change for $1 and $5 bills.
The area is well lit and features security cameras throughout the area.