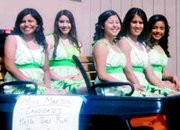 MABTON - Five young women will vie for the honor of serving as Miss Mabton for 2007-08.
Because raffle ticket sales are a significant part of the judging process during the June 8 Miss Mabton coronation, Mabton residents can expect some door knocking come this Thursday night.
In order to receive full points in this category, each contestant must sell 300 tickets.
The grand prize for the raffle is a one-night jacuzzi suite stay at the Best Western in Prosser, dinner for two at El Valle and brunch for two at the Barn Restaurant, valued at $250.
The second prize is a one year subscription and centennial book donated by the Daily Sun News, valued at $100.
The third prize is $100 worth of summer gardening supplies from Ace Hardware.
Selling the raffle tickets is a boon to the girls in several ways, according to event coordinator Connie Beeman.
"Selling will help the girls in public speaking, as well as (providing) a great opportunity for community members to get to know them," Beeman said.
All proceeds from the raffle sales will go to the Mabton Lion's Club to help pay for Community Days, parade and pageant expenses.
"We are so proud to have such a great group of girls running," said Beeman. "I feel that they all have a chance of winning the Miss Mabton title."
. Lynda Jo Gross can be contacted at (509) 837-4500, or e-mail LGross@eaglenewspapers.com