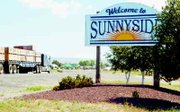 Just as Sunnyside city officials are trying to give the boot to criminal gangs, the city is also putting out a renewed welcome mat for residents and visitors.
About two weeks ago the city installed the first of three new welcome signs, one for each entry way.
The first sign was posted on the entrance into town from I-82, exit 63, via Yakima Valley Highway. It incorporates the city's new logo against a metal background.
Deborah Estrada is the city clerk for Sunnyside, and she said the corrugated metal background is intended to offer a three-dimensional effect and complement the city's new logo design.
Sunnyside purchased the three 8x16 signs from Cascade Sign of Yakima at a price of $5,000 each. Estrada said the sign funds were budgeted during 2006.
In addition, the city is applying smaller, adhesive versions of the sign to parks around the city. Estrada noted an initial round of adhesive signs, at Sunnyview Park for example, will be replaced since the three-dimensional effect actually gave the signs a prison bar look.
"We're working on fixing that," she said. "Those did not have the effect we thought they would."
A second entry way sign will be posted soon off of I-82, exit 69. Estrada said a third sign off of exit 67 will be posted once the city is able to complete a street widening project on South First Street.
"It's part of cleaning up the image of the city," she said of the sign movement.