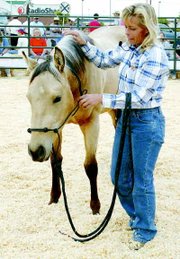 Jina Stritzke, a horse trainer from Deer Park, gave free lessons on training horses to Lower Valley residents last night in Sunnyside at Bleyhl's Country Store.
Also at last night's presentation were three Charro riders showing their dancing horses and Mike Miller, who spoke to the crowd about proper feed nutrition and body conditioning scoring on a horse.
Throughout the free two-hour demonstration, people enjoyed free hot dogs and soda and helped themselves to free samples of dog food.
Stritzke said she has been involved with horses for 25 years, ever since she watched Pat Parelli in 1982 work with horses.
"I said to myself I wanted to do that," she explained.
She worked with three horses during the show, basically doing the same things with each of them. The only difference was in the horses' demeanor.
The first lesson she gave was how to put a halter on a horse. She said the key is to make the horse interested in you. She did this by making the horse aware of her presence.
She took the halter rope and lightly tapped the horse's behind. This would make the horse move and she kept the horse moving until it took notice of her.
Eventually the horse took notice of her and wanted to be around her. Soon she was able to move and have the horse follow her wherever she went. She then slipped the halter on the horse.
Once the halter was on, Stritzke never had to pull on it to get the horse to move, the horse would just go with her.
Next Stritzke established her personal space with the horse. One the horse was comfortable with her it would come up behind her and crowd her.
She explained to the crowd a person doesn't want this as the horse could accidentally hurt someone with its hoofs.
In order to establish her own space she would poke her finger into the horse's muzzle.
"One little, light tap and she fixed herself," Stritzke demonstrated to the crowd.
She said this is natural for a horse as other horses would do the same thing if they wanted some space.
Cameron Schutt, owner of the first horse Stritzke worked with, said he's never seen his horse, Meadow, cooperate quite like this before.
"I thought it was amazing," he said of the way Stritzke handled his horse.
He added he would use Stritzke's techniques from now on.
Corey Russell/Daily Sun News
Jesus Valencia Jr. climbs on to his three-year-old mustang Peojuto after making him lie down on the ground.
Corey Russell/Daily Sun News
Mike Miller explains proper body condition scoring techniques to the crowd last night at Bleyhl's Country Store.