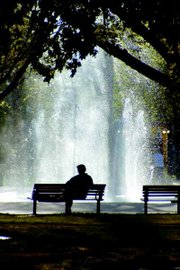 SPOKANE - It's a bustling city of 200,000 people, yet in the middle of the urban scene is a water fall and white water rapids.
That, in a nutshell, is the treat awaiting visitors to Spokane's Riverfront Park.
A remnant of the World Expo that Spokane held in 1974, Riverfront Park has helped the city appreciate again the Spokane River that barrels through.
Visible in the distance from the park is a reminder of the fair, the Pavilion, and of the city's past, the old Great Northern clock tower built in 1902.
There are other amenities at Riverfront Park, such as footbridges and large spans of green grass, tempting visitors to stay awhile and enjoy the river or to just meander through the natural setting.
But all the fun isn't just outdoors, as a century-old carousel and an Imax theater are among the attractions awaiting visitors to the park.
There is a generous supply of benches scattered throughout the park to give weary feet a break. Plus there is a cascading fountain to help cool off, serving as an entryway of sorts to an old downtown area featuring shops and restaurants when hunger calls.