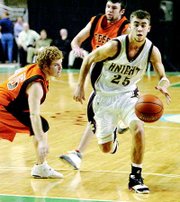 Sunnyside Christian High School's Aaron Van de Graaf didn't know he would be offered a basketball scholarship in the future when he started playing with his brother's third grade team when Van de Graaf was only in first grade.
He didn't even expect it when he started playing varsity basketball at high school and was part of a State Championship team. It wasn't until last year that the thought crept into his mind. It vanished very quickly after last year's State appearance.
"I didn't think I played too well," he explained.
After starting this year out playing fairly well, the thought crept back into his mind.
"I thought I might have a shot," Van de Graaf said. "That pushed me to get better."
It worked as Van de Graaf averaged 19.5 points per game, catching the attention of Jeff Reinland, coach of the Walla Walla Community College men's basketball team.
Van de Graaf's play earned him a offer from Reinland a month ago to play at Walla Walla. Van de Graaf said the coach plans on redshirting him until the 2008-09 season.
"He has a lot of faith in me," Van de Graaf said. "But, he wants me to get better."
Reinland has Van de Graaf shooting 100 three-point shots a day and wants him to be able to make at least 80 of them. Van de Graaf said he's at 66 right now.
Reinland also wants Van de Graaf to be able to score from 10 feet behind the three-point line. He is also working on elevating as high as he can go when shooting while keeping his same form.
Van de Graaf is aware of the challenge ahead of him. He's played with the Walla Walla team three or four times and marvels at how fast college basketball is compared with high school ball.
"A lot of the players are the best players from their high schools," he said. "There's a lot more running in college basketball."
Still, Van de Graaf feels he will be able to compete with his teammates come this December.
"Sooner I hope," he said.
He thought about trying out for the baseball team at Walla Walla but thinks he will be too busy with basketball. He said baseball is his favorite sport, adding it's fun and exciting to play but thinks basketball is more competitive.
"I think it's the sport I'm best at," he added.
He said the coach at Spokane Community College wanted him to come play for him, but when Reinland offered him a scholarship, he jumped at the chance.
"My parents are pretty excited," he said.