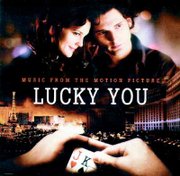 The film "Lucky You" opened May 4 and stars Eric Bana of Hulk fame and Drew Barrymore as two lovers in Las Vegas.
Bana plays a gambler who tries to win the World Series of Poker and Barrymore's heart, while battling poker legend and the man who left Bana's mother, the great Robert Duvall.
All the action is set to a soundtrack featuring new music from Bob Dylan, Kris Kristofferson, Bruce Springsteen and many more.
Huck's Tune is the first new music from Dylan since his 2006 Billboard topping hit record, Modern Times.
The classic Like A Rolling Stone is also featured on the soundtrack. This song is so good it could be featured in any movie and not be out of place.
Kris Kristofferson, known more for his song writing talents than his singing, comes out with a new tune for the soundtrack. They Ain't Got 'Em All features his gravely voice on the track. Something his fans will greatly appreciate.
Bruce Springsteen appears on the CD twice, singing Lucky Town and The Fever.
George Jones is also featured twice, with Choices and I Always Get Lucky With You.
An interesting song on the CD is when Drew Barrymore performs The Cold Hard Truth. Barrymore is known for her acting but this is the first time that I know of where she sings in one of her movies. This might change in the future as Barrymore has a voice to match her good looks. It's beautiful. Who knows, with Hollywood wanna-be's like Lindsay Lohan and Hillary Duff making their own records, why can't a jewel like Barrymore jump on the wagon?
I guess a movie about the glitz and glamour of Las Vegas wouldn't be complete without a song from Liza Minnelli. She performs Maybe This Time for the CD.
Madeleine Peyroux (Dance Me To The End Of Love), Bonnie Raitt (Bartender's Blues) and Ryan Adams (Let It Ride) finish out the artists on the CD.
I haven't seen the movie but any CD with a new Dylan song on it is worth buying to me. Add a new tune from Kristofferson and the surprise from Barrymore, this CD is worth getting.
More like this story