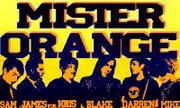 GRANDVIEW - Local band "Mister Orange" is set to rock the Grandview fairgrounds on Tuesday, June 12, just one concert in a series of concerts set to take place at the amphitheater.
And the best part is that the concert is free.
The Grandview Chamber of Commerce is hosting the performance by "Mister Orange," which will begin at 7 p.m. Food and refreshments will also be available at the concert for a nominal fee.
The band is a collaboration of artists with the same common goal: to offer a refreshing approach to rock and roll.
Three of the band members, James Timmons, Kris Bennett and Darren Van Corbach, previously played together in the now defunct band KENO, a Jet Speed Records act for two years.
The industry experience they gained from being signed to a label gave them the opportunity to take an innovative approach toward their shared vision of creating an unfettered version of what they prefer to call rock fusion, drawing from such influences as Led Zeppelin and Queen, as well as modern day influences such as The Used and Greenday.
The group writes what they call their own breed of music. And bringing on board Blake Mikulecky, Sam Berven and Mike Kollmar helped strengthen their diverse range of influence and solidify their aim toward their inventive musical expression.
For more information about the Grandview Chamber of Commerce concert, call Beth Bourgeois at 882-2100. For more information about the concert series, call Mike Carpenter at 882-9219.