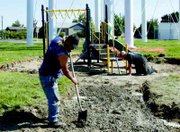 GRANDVIEW - A new playground will soon be completed for kids in the neighborhood of the Velma tower park.
Grandview spent $6,998.79 on the playground equipment and received generous donations towards the project, according to Parks and Recreation Director Mike Carpenter.
M&R Construction donated $1,000, he said.
"What saved us big bucks was the installation of the equipment," Carpenter said. Workers from Columbia River Steel & Construction assembled the equipment at their shop, delivered it, and then installed it.
The city's engineering firm, Huibregtse, Louman and Associates, donated its services early on in the project by surveying the land.
This is the third park improvement project over the past three years. First, equipment was installed at Dykstra Park, then Eastside Park and now the water tower park.
After the first two playground installations, Carpenter said, "We didn't want to lose momentum, so we thought we'd get (equipment installed) at the tower park."
Carpenter added, "We're excited about the partnerships out there that we can form on these particular projects."
Next up on the list for playground equipment is West Side Park. "That's our most centrally located park," he said.
Just this week, Carpenter completed the first step in the grant application process by sending a three-page letter of intent for a Yakima Valley Community Foundation grant to make the West Side Park project a reality.
By the end of next week, the playground equipment at the water tower should be ready for young ones to enjoy.